Welcome to the official website for the Ilowite Family!
<![if !supportEmptyParas]><![endif]>
This site is intended to become a comprehensive resource available to every member of our family, and contains a hyperlinked family tree with as much historical and biographical information as we can gather and store!
It doesn't matter how close or distant a relative you are, and it doesn't matter whether your last name is Ilowite or if you're related by marriage or some other way - or even a member of our large "extended family" of close friends. We still want to hear from you, and everyone is invited to contribute and to make corrections and suggestions. Of course anyone who wants to list their contact info is welcome to do so (and we'll take steps to keep all email addresses and/or links to personal websites immune to "auto-harvesting" by spammers).
We'll also be able to host email accounts (for example "yourname@ilowite.net") for many of us - maybe not enough for everyone, but we'll hand them out on a first come-first served basis.
At some point we'll also add the ability for you to subscribe to an email notification list if you wish to be informed when the site is updated.
PLEASE KEEP SENDING STUFF IN! We're still looking for pictures and bios for most of you, as well as birth dates for many. Please send contributions (information, pictures, stories, etc) as well as any comments or questions to:
Click here to go straight to the family tree grid
LATE BREAKING NEWS:
6/20/2020: Welcome to summer and hope everyone is staying safe. A belated but big welcome to Lucy Therese Hermane, born on 12/5/2018, second child of Matt & Alli!
9/23/2019: And another big welcome to Dylan Qiyuan, born on 7/20/2019, first child of Scott & Qian!
8/17/2019: A big welcome to the family to Zev Aryeh, born on 8/3/2019 and the first child of Avi & Jill!
7/13/2019: Late as usual, but please welcome Jacob, born on 3/2/2019 and the second child of Micah & Emily!
4/14/2019: Apologies again for being a bit late, but we welcome Leo Ryder Einhorn, son of Amanda & Jeremy.
12/2/2018: Catching up on a new arrival, and two older arrivals I hadn't heard about before now! First up is Abigail, child of Callie & John. And we also welcome Hailey and Mackenzie, children of Jason & Kaitlin.
3/29/2018: Apologies for being a bit late getting the word out about the newest family member, August Matthew Hermane, son of Matt & Alli Hermane. And as far as I know, August is the very first member of the 7th generation!
11/26/2017: Just heard about two new family members, Jacob and Jackson, twin sons of Frederick & Jennifer Polirer. Are there other twins in the family? I'm not aware of any at the moment!
9/24/2017: My humble apologies - it's been way too long since I updated the site. Latest news is the birth of new daughter Rose to Samantha Banilower & Adam Kuritzky, and the arrival of first child Pip (aka Pepper Winnie) to Ilana and John. Love and best wishes!

1/3/2015: And yet another new discovery: Brad & Ricki's son,Wiley, born 11/15/2008!
12/16/2014: Had apparently overlooked the arrival of Samantha Banilower Kuritzky's children, Morris Andrew and Annie. Welcome to the family!
12/28/2012: Louis & Alice's niece Wini Bell has added a photo and some great memories of the family back in the old days. Go to Louis's page to read them!
12/24/2012: We sadly note the passing of Jack's grandson Wayne, and of Irving's son Arnold's widow, Rene.
3/31/2012: It's with great sadness that we note the passing of Rosa Ilowite, Sheldon's wife. Donations in her memory can be made to Hospice Care Network.
4/20/2011: Please welcome Soraya Lenee Rogers, daughter of proud parents Summer & Reuben!
10/24/2010: Can't believe it's been almost a year since we updated the site! Lots of news to catch up on, starting with
four
new additions to the family! Please welcome to the world
Ezra
,
Jessie
,
Kailyn
, and
Zeah
and congratulations to all the proud parents! We also have a confirmation on the original family name, which we now know was Iliovici. And in addition to Aaron's grave, we also found the names of Aaron parents Elias and Hanna, who we never even knew about! And after having looked at a collection of somewhat conflicting data, we've decided that the "mystery" woman Sophie must have been Aaron's wife, whose original name was Schifra, although Perl recalls her going by a different name. One more interesting bit of news is that Roy's birth certificate shows the name as "Ilowite" which calls into question exactly when Louis dropped the 'e'.
10/17/2009: Belated congratulations to Michelle and Rob Donson on the arrival of daughter Mia. Wonderful news and good luck!
10/17/2009: The reunion was a wonderful time, and though we wish more of us had attended, those of us who made it really enjoyed meeting relatives - many of whom we didn't even know about a year ago! Batyah and Honey brought lots of pictures, so most of them are up for Rayna, Isaiah, Micah, Batyah, Maya, Larson, Gordon, Roy, Belmont, Arianna, Louis, Alexander, Allan, and Aileen.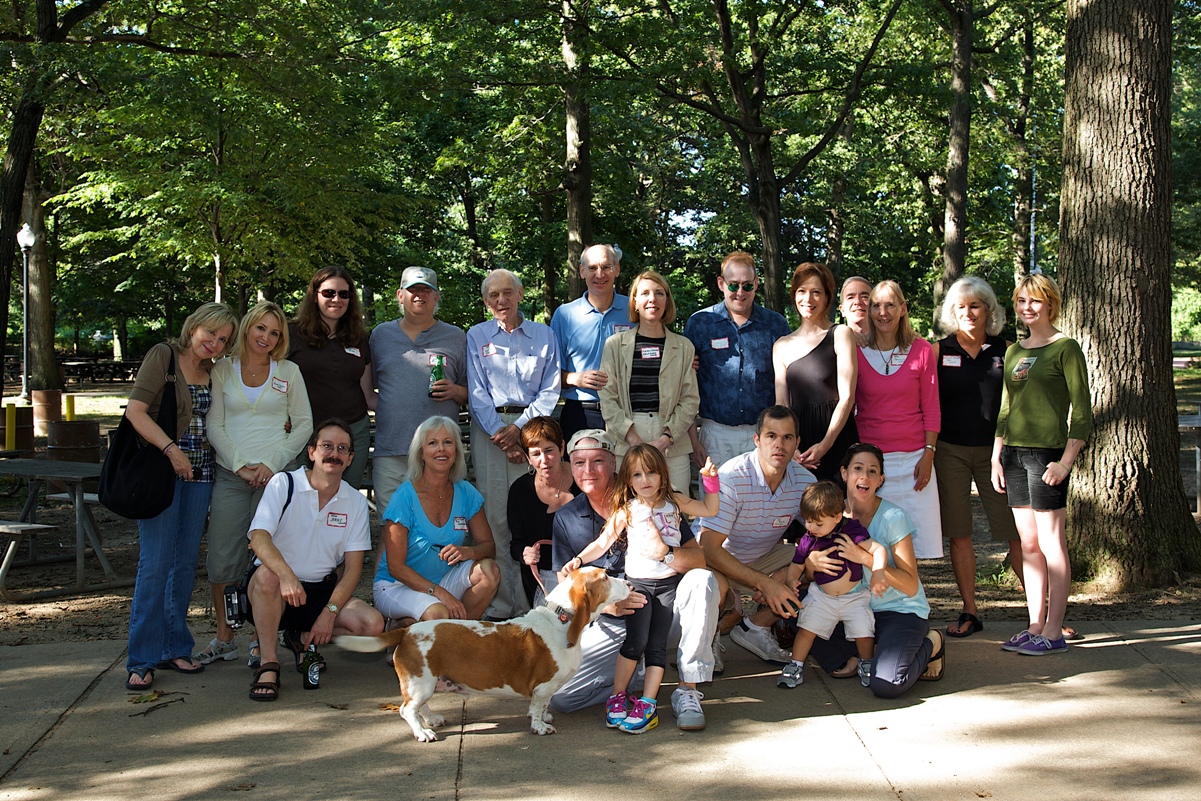 Back row: Barbara, Alison, Katharine & Rick, Norman, Rob & Lisa, Pete & Linda, Norman & Phyllis, Batyah, Callie
Front row: Jerry, Honey, Jan, Randy, Melanie, Larson, Alexander, Gillian
and of course, Henry the wonder dog (Norm & Jan's pride and joy)
8/30/2009: The family reunion on Sunday, September 13 is getting close! If you haven't yet done so, please RSVP on the Facebook page or directly to the webmaster.
7/17/2009: Welcome to the very newest Ilowite!! Kimberly Rose, born to Scott & Lisa, on Friday July 17th @ 9:31 pm. 6 lbs 11 oz and 19.25 inches long. Congratulations!
4/25/2009: We now have a location for the family reunion - we reserved the picnic pavilion at Hempstead Lake State Park on Long Island. Just to remind everyone, it's set for Sunday, September 13 from 1PM to 6PM. Friends, guests, and extended relatives are all welcome. Right now we're thinking just doing it as BYOB and BYOF.. But if that's impractical (i.e. for people coming from out of town) let me know and we can arrange to have extra food and beverages. Or if anyone feels we should just have the reunion catered, let me know - if enough people want to do it that way, I can start looking at options and costs. I'll send out more email updates as it gets closer, and post updates to the Facebook page as well:
http://www.facebook.com/event.php?eid=57410523411&ref=mf
We also have new photos up for Melissa and Matthew Grayson, and their daughter Samantha
4/20/2009: Exciting news in the discovery of two more Ilowites - Isaiah & Samantha's children Brianna and Lily Belle. This brings the total number of known Ilowites (blood relatives) to 132!
3/27/2009: New photos up for Herman, as well as Jack and his offspring Bernie, Paul, Ralph, and Randy. Pics are from Randy's collection - thanks!
3/20/2009: Calling all Ilowites near and far! We're planning a reunion to be held Sunday, September 13 at a yet to be determined location in the NYC area. For more info and to RSVP please email the webmaster and/or stay tuned to this site. For those of you on Facebook, I set up an "event" that will also have the information as we finalize the plans. Looking forward to seeing as many of us as can make it!
10/10/2008: Unfortunately, the message board was hacked into yet again! So until we find a more spam-proof one, I'm just going to remove it - and if you have anything of significance to report or want to ask a question, just email the webmaster at the above link, and we'll throw away the spam and post valid things right here.
9/24/2008: The family grows! Brenda writes to inform us not only of her husband, Michael Anthony DiGiovanni, but also their two children, Andra Sage and Atomic Salix. Congratulations and welcome to the newly discovered family members!
8/28/2008: Belated congratulations to Larson & Gilian Banilower on the arrival of their son, Alexander Reed on January 18!!!
8/22/2008: Noting the selling of the home of Ralph Ilowite (Irving's son) in Ramsey, NJ
8/22/2008: Ralph Ilowite (Irving's son) was listed as a "celebrity" on a site dedicated to VIPs in Radio and TV: http://www.coutant.org/celeb6/index.html
6/23/2008: Scott Ilowite was married to Lisa Serpe on May 31. Congratulations!
6/20/2008: The Sophie Ilowit mystery deepens. I obtained her death record which indicates that she had been in the US for 5 years when she passed away from pneumonia in 1925 at the age of 52. Her father's name is listed as Rabinowitz, so she was almost certainly related to our family by marriage rather than birth. This raises the possibility that she was married to a 7th brother who never came here from Romania (or who did come and died shortly thereafter) or possibly married to a cousin. The death certificate is signed by "Joseph Ilowit" who is listed as her son, but we have no other record of him either.
5/2/2008: It's with great sadness that we mark the passing of Ralph Ilowite (Irving's son). Burial will be private, but a memorial gathering will be held on Tuesday May 20th from 3 to 6 PM at the Unitarian Society of Ridgewood, 113 Cottage Pl, Ridgewood, NJ (201) 444-6225. In lieu of flowers or gifts, the family requests donations in his memory be made to The Fair Housing Council of Northern New Jersey, 131 Main St, Hackensack, NJ 07601.
4/6/2008: We found out who "Annette Ilowite" was - apparently Ralph's (Jack's son) second wife. We're still trying find info for "Sophie Ilowite" - since she died in 1925, maybe she was a daughter of one of the six brothers, and died in childhood? If you know anything about her, please let us know!
3/30/2008: Thanks to Cyd Rothstein and her brother Steven Crayne for the new photos and info about Arthur & Mae, along with their descendants. Steven also reports that Arthur once told him there was another brother who died shortly after birth, so Aaron and Martha may have actually had seven sons, not just the six we know about.
As of 10/24 with the discovery of Alison's children Drew and Melanie, Louis and Jack are once again tied for the lead in number of descendants!
The arrival of the newest member of the family - daughter Tova, born to Shoshana on 9/20.
As of 9/6 with the discovery of Samantha Grayson (daughter of Melissa Elliot), and twins Joshua & Sadie Elliot, Louis just passed Jack as having the most descendants.
As of 9/3/2007 we now have pages up for all the blood relatives we know about - so far we've identified over 120 of us, spanning 6 generations! Of course we've probably had a few more births since the tree Wini put together back in 1997, so if you know of any other family members please let us know!